Electronic Checks (eChecks)
Würth Baer Supply Company offers our customers the use of Electronic Checks (eChecks) for your orders instead of using cash, credit cards, or paper checks. eChecks are only available to Business accounts through phone orders.
Once this agreement is on file, you can place a phone order and then provide us with the last four digits of the bank account number and you're all set. There's no need to fax a check in or anything. The payment process is handled electronically and securely.
For payments on account or to get setup on automatic monthly account payments, please contact your Collection Sepcialist at 800-944-2237; select Option 2, then Option 3.
eChecks offer you:
No COD fees.
It's as safe and secure as using credit cards.
Saves you time at Receiving.
This is just one more way Wurth Baer Supply Company is helping make it easier to do business and save you money.
Prior to starting your application to use eChecks, you'll need to know two key pieces of information from your Checking account — your Bank Routing Number and your Bank Account Number (see the image below for an example of where to locate this information on a check).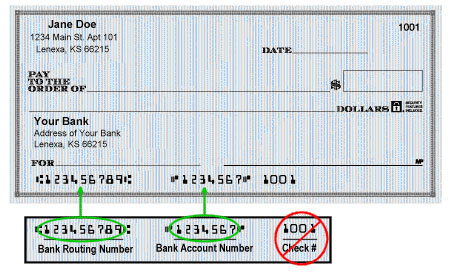 Follow these steps to get activated:
Click the appropriate button below.

Existing Customers

(Opens in new window)

New Accounts

(Opens in new window)

Fill out and print the form.
Sign it.
Mail or Fax a copy of the form back to us at:

Mail: Attn: Elizabeth Campos - 909 Forest Edge Drive, Vernon Hills, IL 60061
Fax: 847-613-3333

New accounts will receive a Welcome fax with your account information within 24 hours. Existing accounts will be configured within 24 hours.