Do you know the item number? Use the
Quick Order
to save time!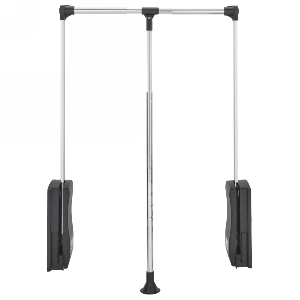 Rev-A-Shelf Corporation

Standard Features:
• Rev-A-Shelf's Pull-Down Closet Rod is available in three width size ranges and features an adjustable rod length to accommodate openings from 21.5" - 26" (RSCPDR-1826), 26"- 35" (RSCPDR-2635) and 35"- 48" (RSCPDR-3548)
• The telescoping pull rod's length is adjustable from 34" - 50" to accommodate universal design and handicap accessible applications
• Soft-closing mechanism that will slowly draw the bar back to the upright position
• Heavy duty hardware allows a large number of items to be stored and easily accessed
• Pull-Down Closet Rods include: (1) Pull-Down Closet assembly, rod, mechanism, arms, handle, connectors and hardware

Packing & Sold In: Each

How can we improve this product description? Click here
Thank you ! We have received your message.