Do you know the item number? Use the
Quick Order
to save time!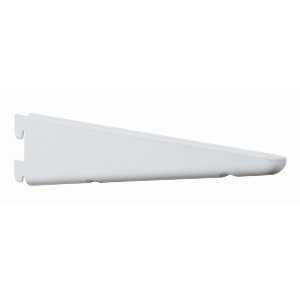 Knape and Vogt
Heavy Duty Shelf Brackets
Double Slotted with Decorative Finish

Standard Features:
• KV Model: KV182 (Typically used with KV82 series standard)
• Available Lengths: 5", 7", 10-1/2", 12-1/2", 14-1/2", 18-1/2", and 24"
• Available Finishes: Almond, Black, and White (Titanium is Special Order)
• Material: 16-gauge steel (5" - 12.5" lengths), 14-gauge steel (14-1/2"-24" lengths)
• Features: Weight rating of 200-425 lb per pair (based on length)
- Bracket has two engagement teeth to fasten brackets to standards and has two holes in bottom of bracket to allow bracket to be fastened to shelf
• Made in USA

Packing: Full box quantity of 10.
Sold In: Both broken and full box quantities Discount available for full box orders.
How can we improve this product description? Click here
Thank you ! We have received your message.