Do you know the item number? Use the
Quick Order
to save time!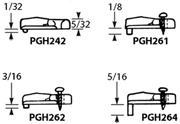 Hughes Supply

Standard Features:
• Holds solid panels in place and prevents rattling by maintaining a soft pressure against the panel or glass
• Uses #5 flat head or oval head screw
• Made of plastic

Packing: As shown below without screws.
Sold In: Full box quantities only.
How can we improve this product description? Click here
Thank you ! We have received your message.