Do you know the item number? Use the
Quick Order
to save time!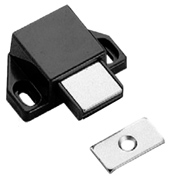 Sugatsune America
Magnetic Push/Touch Latches

Standard Features:
• When door is pushed in, spring-loaded mechanism pushes door open
• Latches have short throw distances
• Strike plates included with all latches
• Single (one door)
• Plastic housing available in brown and white colors
• Magnetic pull force: 2.6 lb.
• Throw Length: 5/16" Short
• Mounting screws not included

Packing: As shown below.
Sold In: Both broken and full box quantities. Discount available for full box orders.
How can we improve this product description? Click here
Thank you ! We have received your message.