Do you know the item number? Use the
Quick Order
to save time!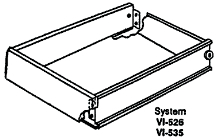 Vogt Industries
Vertically Adjustable Suspension System Slides
3/4 Extension with Integrated Sides

Standard Features:
• Slides for use with Vogt vertically adjustable standards
• The drawer slide has integrated sides and are available in two common drawer side heights (2-5/8" and 3-1/2")
• Slides are 75 lb rated and feature a roller bearing design
• Customer provides drawer back, front and bottom; this allows you to make any width tray based on your application
• Tray sides are grooved to accept 1/4" thick bottoms
• No tools are required to quickly adjust slides
• Recommended fasteners #6 or #8 x 1/2" truss head

Packing: Taped 10 sets per box without screws.
Sold In: Taped sets sold in both broken and full box quantities. Discount available for full box orders.
How can we improve this product description? Click here
Thank you ! We have received your message.