Do you know the item number? Use the
Quick Order
to save time!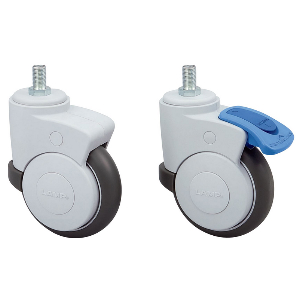 Sugatsune America
Dual Brake System Swivel Casters
Threaded Stem Mount, 264 lb

Standard Features:
• Caster with clean appearance
• Dual brake system: Can be locked on "swivel only" or "wheel and swivel" in one step
• Large lock lever for swivel, and small lock lever for wheel
• Easy operation
• Works as rigid type when swivel locked for easy movability
• RoHS Compliant

• Type: Swivel
• Wheel Diameter: 5-17/32"
• Wheel Material: Nylon/Polyurethane
• Mounting Type: Stem
• Load Capacity: 264 lb
• With or without brakes

Packing: As shown below.
Sold In: Both broken and full box quantities
How can we improve this product description? Click here
Thank you ! We have received your message.